Google has plenty of free* products generally, but there are a few premium services they offer only to qualifying nonprofits. Check out these 3 free things you get from Google for Nonprofits: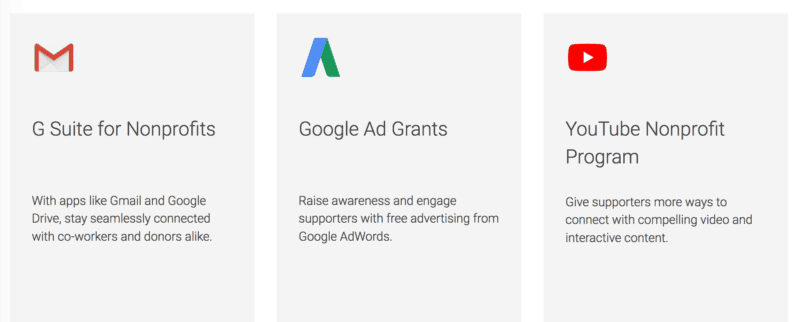 This just in: since publishing this post, I've discovered that Google for Nonprofits has recently updated their process. Now you must register with TechSoup first and then use a token they provide to register with Google for Nonprofits.
Unfortunately, the first thing they do in your application process is ping the IRS's online database of registered nonprofits (more below). Your church will only show on that list if you've applied for your own 501c3 Determination Letter. If you're relying on your automatic blanket exemption as a church, or if you're using your denomination's umbrella exemption, you won't get past this first step.
And even once you've received your 501c3 Determination Letter back in writing, you may have to wait a few weeks for the IRS to update their database. Google's ping is automated and, in my experience, they're not open to exceptions.
Once you've made it on the list, there are several free products they offer. Here are the 3 that are the best match for new churches:
G Suite for Nonprofits
If you've ever had a Gmail account, you'll be familiar with this suite of products. But instead of your email address being @gmail.com, you get to use your church's domain name. They include:
Gmail
Google calendar
Google Drive
Google docs, sheets, slides & forms
Google Hangouts
…and more
Businesses can buy this service for $50/user/year, but nonprofits get it free.
Google Ad Grants
You know those ads that show up across the top and down the side of your search results when you google something? Google Ad Grants would allow our church to place up to $10,000 a month worth of ads there. For real.
Google Ad Basics
You'll need to do a couple hours' planning to get the ads up and running. Here are the basic steps:
Create a properly configured Adwords account (including NOT entering any billing info)
Create your first ad campaign
Enroll in the Adwords Grant program
Publish the ad(s)
Wait for ad review/approval
Monitor them at least once a month and adjust your settings to improve their performance
YouTube Nonprofit Program
Get a nonprofit YouTube channel with premium features, like:
"Donation cards" (collect donations and Google covers processing fees)
"Link anywhere cards" (allow viewers to click through to your website, etc)
Tech support
Be Prepared for Social Engineering
Google for Nonprofits pioneered social engineering clauses: in the application process, they will ask you to certify several things about how your church conducts itself as a nonprofit, particularly around hot-button cultural issues. Follow your conscience and only proceed with your application if you can support those certifications.
Apply Now
Check the IRS database. If your church shows, then you're ready to apply to get these free products from Google for Nonprofits.
* while monetarily free, you 'pay' for many google products by allowing their algorithms to monitor how you use those products so they can put more targeted ads in front of you