Street signs are always in the top 3 answers when I ask planters, "What do people say when you ask how the heard about your church?" But there's an effective way and a not-so-effective way to design church plant signs.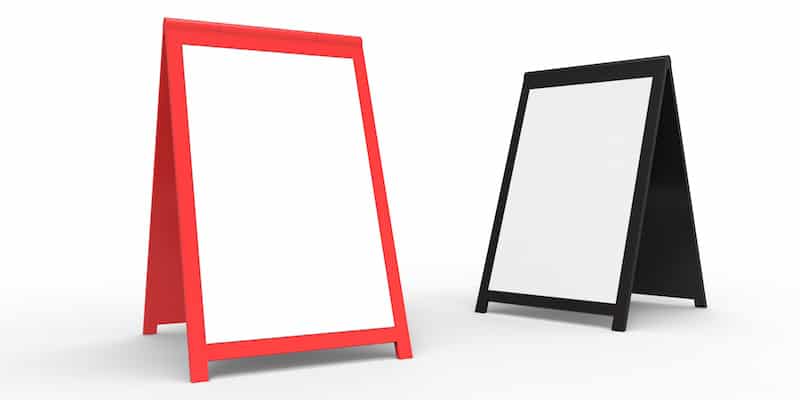 Have you ever been driving and seen one of those homemade garage sale signs, the kind where they've tried to list 20 items that they're selling all on an 8½ x 11 sheet of paper? There is no hope that you'll ever be able to read anything on that list while you're driving. And chances are good that they've used so much space for that, the words Garage Sale and the direction are probably lost, too. It's not that it's homemade, it's that it has terrible design.
Your sign has a job to do. Here are things you need to consider when you design church plant signs:
Physical Considerations
Location
 Are there visual obstructions like shrubs, trees, or competing signs? That may inform how tall or short a sign you need.
What is the speed limit on the roadway? You need a bigger sign and get to say less (both) the higher the speed.
Does your city require permits? Some cities have banned temporary signage and will confiscate your hardware; time to get creative.
Weather
Are you in an area with high winds? You'll need a sign that spins, rocks, or has air slits in it.
Do you live where there's a hard freeze in the winter? You're going to have a hard time staking anything into the ground in January.
Team
How big of a Sign Team do you have? That will determine how many signs you can put out.
What are the physical limitations of your Sign Team? You can only design a sign as big as your smallest team member can wrangle.
Types of Signs
Obviously not an exhaustive list, here are a few of the more popular sign types:
A-Frame
Pro: great all-purpose sign, easily moved, durable, can include directional arrows
Con: limited height, easily stolen, can blow over in strong winds
Yard Signs (aka Bandit or Sniper Signs)
Pro: cheap, anyone can lift them, can include directional arrows, you can put out dozens
Con: limited visibility, brief lifespan due to theft or destruction, unusable in hard freeze
Flag/Sail Banners
Pro: extra height, fabric can be printed with bright colors, wind actually makes them draw more attention
Con: can't use directional arrows, more expensive, more time-consuming to set up
What to Include
Don't make the garage sale sign mistake. You can only include a few things. Have your graphic designer include:
Logo & brand colors
Directional Arrow (for non-spinning signs)
Web Address
and maybe Service Time (but know that if you change time, you'll need new signs)
When you take the time to design church plant signs well, they turn strangers into guests and help outsiders feel like insiders.